The Blumenbach Skull Collection
at the Centre of Anatomy, University Medical Centre Göttingen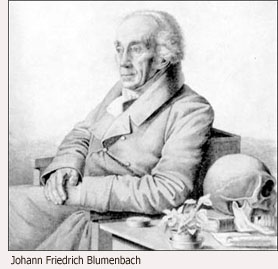 The collection
Johann Friedrich Blumenbach (1752 - 1840) had moved to Göttingen from Jena for the 1772 winter semester as an advanced medical student. As early as 1773, upon recommendation by Christian Gottlob Heyne, Director of the University Library, he was appointed to take care of the 'Academische Museum' of Göttingen University. His main task in this position included sorting and cataloguing Büttner's cabinet of naturalia and coins, which had just been acquired by the University, and this fuelled his interest in eighteenth century anthropology. As an early result of his studies, he received his doctoral degree from the Medical Faculty in 1775 with a thesis entitled De generis humani varietate nativa (On the natural varieties of mankind). Stimulated by the work of Petrus Camper (Groningen) and Samuel Thomas Soemmerring (Kassel), Blumenbach soon started to focus his anatomical studies on the human skull as the part of the body which he deemed most useful to pin down these 'varieties'; by 1798 he had catalogued and described in detail 82 skulls. Through his thesis and subsequent publications, Blumenbach quickly gained national and international scientific recognition as the founder of comparative anatomy und anthropology; his pupils, colleagues and friends worldwide (amongst them Sir Joseph Banks, Count Georg Thomas v. Asch, Alexander v. Humboldt, Johann Wolfgang v. Goethe, and Franz Joseph Gall) continued to supply him with human skulls. In 1834, when Blumenbach was well beyond retirement age, an Etruscan skull from a grave in Tarquinia near Rome was handed over to him by King Ludwig I of Bavaria.
Several archaeological specimens and items contribute to the significance of Blumenbach's skull collection in the context of the history of science. For example, the head of an Egyptian mummy with partially preserved bandages was probably investigated by Blumenbach himself during a visit to London in 1791 and subsequently sent to Göttingen by Thomas Turner from the archives of the Royal Society in 1796. Johann Wolfgang von Goethe had brought him a cast of the skull of the Italian painter Raffaello Santi (Raffael) from his Italian Journey 1786-1788; the connection to the original, however, is not confirmed.
Blumenbach was appointed Professor of Medicine at the Medical Faculty in 1778. Almost simultaneously he had taken up the position of 'prosector' at the Theatrum Anatomicum, started to hold his (highly praised) lectures on anthropology, and continued to conduct detailed anatomical research into the human skeleton. His close relationship and personal dedication to the anatomical institute was also evident from his financial contribution to building the 'New Langenbeck's Theatrum Anatomicum' (completed in 1829). Following Blumenbach's death in 1840, the skull collection was, therefore, acquired (together with many other items from his natural history collection) by the University and incorporated by Langenbeck, who held the chair of anatomy at that time, into the collection at the Theatrum Anatomicum. Langenbeck himself and his successors to the chair of anatomy, Jacob Henle, Friedrich Merkel und Hugo Fuchs, all added further skulls to the collection. World War II left the skull collection unscathed as Erich Blechschmidt, the anatomist in charge at that time, had moved the collection to a guest house in nearby Bremke in improvised wooden boxes. As a result, the collection can be considered to be complete with its 840 skulls and casts; in particular, the five skulls on which Blumenbach based his 'varieties' ('Caucasian', 'Mongolian', 'Ethiopian', 'American', 'Malaysian'), are still amongst the items present in the collection today. Only the comprehensive catalogue, which also contained anthropological findings from other authors (e.g. M. Wolfgang Hauschild), was destroyed in a bomb raid in April 1945. Some of the skulls, however, carry hand-written inscriptions by Blumenbach himself which give some hints as to the derivation of the specimens.
Current Research
All skulls from former periods of civilisation can be considered 'biohistorical documents'. Blumenbach's skull collection is therefore intensively used in physical anthropology, paleopathology, ethnology and in the history of science and humanities. The skulls showing signs of malnutrition (e.g. scurvy), infectious diseases (e.g. syphilis) or external force (e.g. accidental trauma, iatrogenic trepanation) are important comparative specimens from late modern times for research in medical history and paleopathology. In future, modern techniques of imaging analyses and biochemistry (bone matrix proteins and ancient DNA) will be applied. The aim of the long-term project 'Johann Friedrich Blumenbach - online' of the Union der deutschen Akademien der Wissenschaften is the comprehensive digital presentation and critical assessment of Blumenbach's scientific achievements (http://www.blumenbach-online.de).
University Teaching and Publicity
The collection is used on a regular basis for teaching students in anatomy, anthropology and, in particular, paleopathology. There is frequent demand for items to be displayed at international scientific exhibitions and scientists come from around the world to study the collection.
Admission
The collection is housed in the Centre of Anatomy of the Georg-August-Universität, Kreuzbergring 36, 37075 Göttingen, Germany. Contact: Zentrum Anatomie (Tel.: +49 551 397000) and Prof. Dr. Dr. Michael Schultz (Tel.: +49 551 397028).