The Human Embryology Collection ('Blechschmidt Collection')
at the Centre of Anatomy, University Medical Centre Göttingen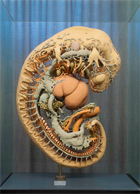 In the course of more than 25 years, Prof. Blechschmidt had obtained approximately 120 embryos from the first trimester of pregnancy and more than 200 organs or body parts of fetuses from all phases of pregnancy as chance-findings at gynecological operations. After embedding in paraffin wax, these embryos were sectioned in serial manner and histologically stained. All in all, the collection contains more than 200,000 sections on more than 20,000 microscopical slides.
The large-scale models were made using a modified Born's wax plate method and are, therefore, actual reconstructions of developmental anatomy. Nine series of sections were selected for reconstruction and at least three different models were created in each case: (1) surface anatomy, (2) selected internal organs (e.g. cardiovascular system, lungs, gastrointestinal tract and nervous system, s. Fig. showing the model of a 4.2 mm embryo from week 5 of development), and (3) selected functional systems (e.g. skeletal anlagen, musculature and the peripheral nervous system); the selected features are shown in their complete three-dimensional extent and topographical neighbourhood. The reconstructions are unique in their high degree of detail and clarity, which was achieved through the combination of optimal chemical fixation of tissues, use of an easily malleable epoxy resin, and a specific colour scheme. The models, measuring about 75 cm in height, are mounted in individual glass cabinets viewable from all sides. The collection of reconstructions is arranged according to embryonic age in a dedicated exhibition hall, which is open to the public.
World-wide, only a small number of extensive collections of serially sectioned human embryos exist. Together with the collections at the Carnegie Institution in Washington D.C. (USA) and at the Congenital Anomaly Research Centre at Kyoto University (Japan), the 'Blechschmidt Collection' stands out due to the high quality of its histological sections and the near-complete coverage of early embryonic phases of development in the first eight weeks of prenatal life.
In the near future, high-resolution images of the serial sections are to be presented online after digitisation with the help of cutting-edge virtual microscopy techniques, segmentation for digital 3D-reconstruction of specific tissue compartments, and annotation supplying fundamental anatomical information and hyperlinks to a variety of international research databases. This project is being carried out with a view to long-term preservation of the histological sections, and intends to provide an international reference for research into early human development. The rapid advance in the development of clinical imaging techniques (e.g. 3D-ultrasound) is also expected to put special demands on the collection as a reference centre for prenatal diagnostics.
The exhibition of the reconstruction models is accessible to the public at the Centre of Anatomy, Kreuzbergring 36, 37075 Göttingen, Germany, following personal registration at the Secretariat of the Centre of Anatomy (Tel. +49 551 397000).